PRESS RELEASE
For Immediate Release: December 5, 2022
Contact: Abbie Goodman, Chief of External Affairs, 617-305-4112
Web: www.engineers.org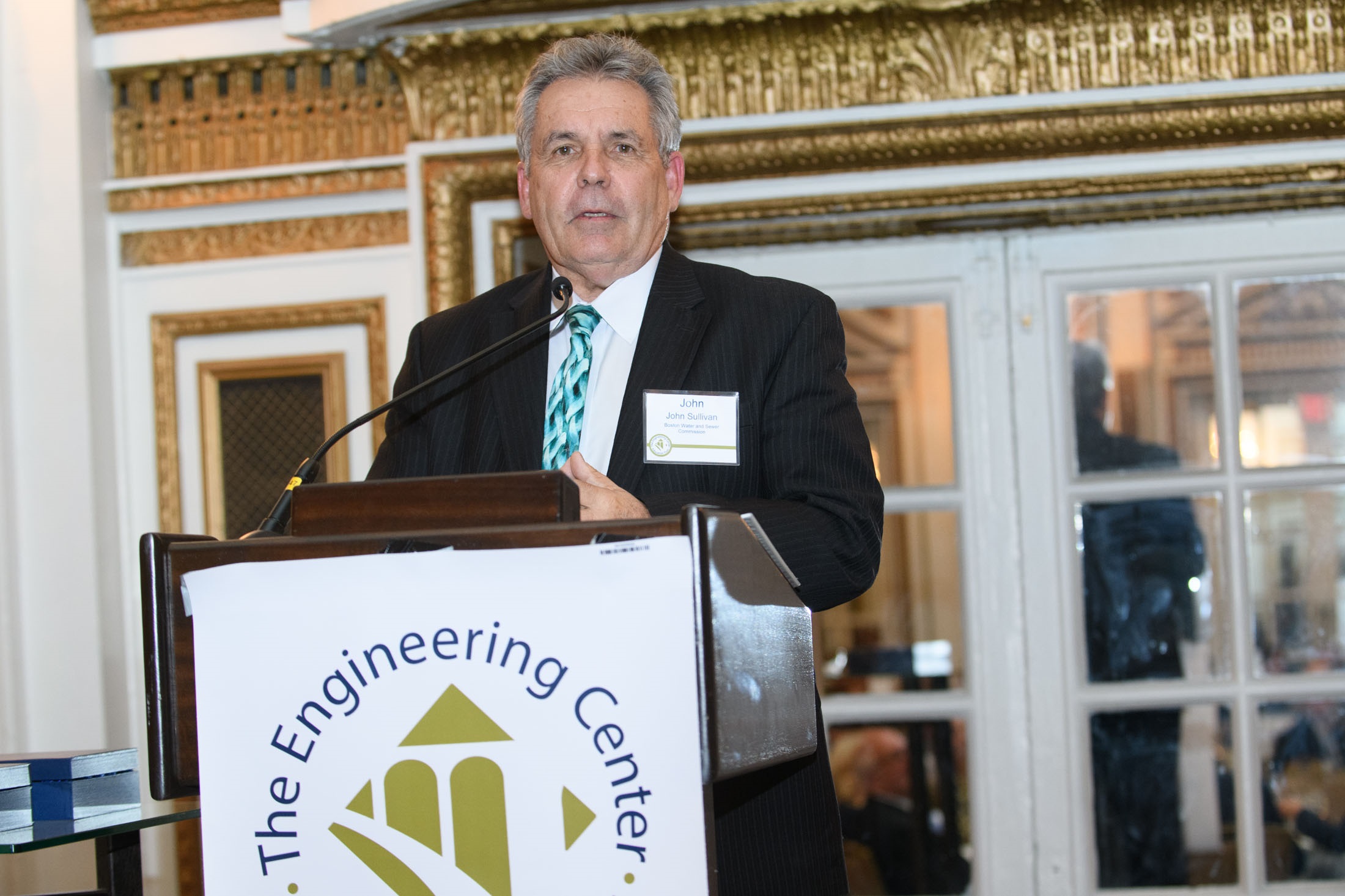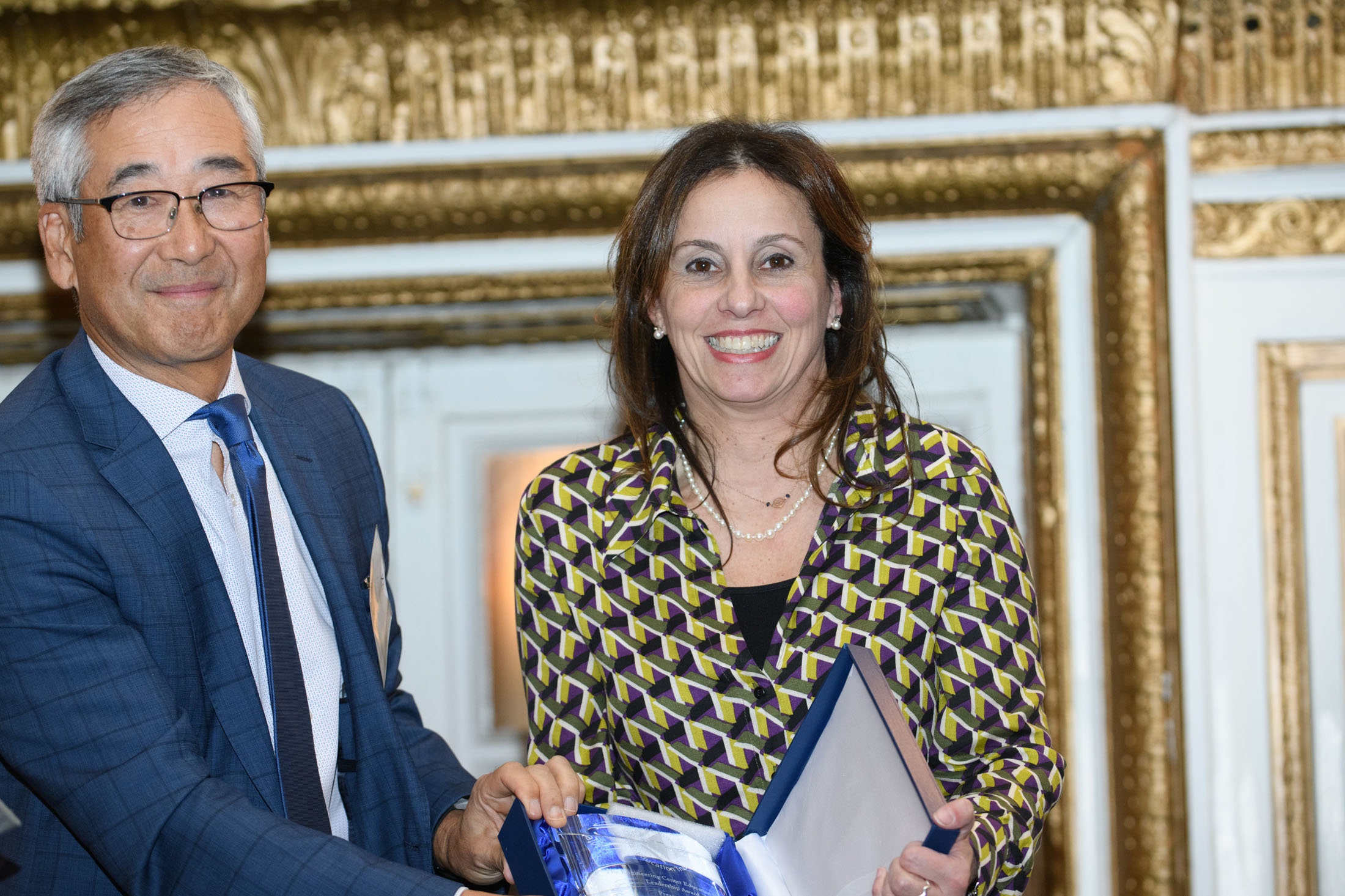 From left: John Sullivan From left: Ko Ishikura, Luciana Burdi
Boston, MA - The Engineering Center Education Trust (TECET), an organization serving engineers, land surveyors and related professionals from across the Commonwealth of Massachusetts honored Massport's Luciana Burdi and the Boston Water and Sewer Commission's Chief Engineer John Sullivan at its 25th annual Leadership Celebration held in the Grand Ballroom at the Fairmont Copley Place Hotel in Boston on November 15, 2022.
Beginning in 1998, TECET has held an annual leadership celebration event honoring individuals who, through their leadership, have made a difference in the built environment and for their contributions to society. TECET has consistently honored engineers, land surveyors, academicians, public officials, and private industry leaders who exemplify how engineering and land surveying expertise improves the quality of life for everyone.
Over 250 people participated in this fall's leadership celebration hosted by TECET Board of Trustees Chair Ko Ishikura, President of Green International Affiliates.
The 12-person TECET Board of Trustees wishes to thank the more than sixty firms and organizations that supported this year's event. The top two sponsors for the November 15 event were the law firm Donovan Hatem (www.donovanhatem.com), multi-discipline consulting firm VHB (www.vhb.com) and infrastructure consulting firm AECOM (www.aecom.com).
Highlights of the evening included:
TECET Scholarship
Each year, TECET offers a $5,000 merit scholarship awarded over two years to a Massachusetts high school senior planning to attend an ABET-accredited engineering, pre-engineering, or land surveying program. Even faced with the challenges of remote learning during the COVID-19 pandemic, a great many outstanding applications were submitted for review.
After a careful and thorough evaluation, the TECET Board of Trustees selected Sophie Thompson from the Bromfield School in Harvard, Massachusetts as the FY2022 scholarship recipient. Sophie is currently studying chemical engineering at MIT. At the Bromfield School she was involved in many volunteer activities. She was awarded a National Merit prize, the WPI Book Prize for STEM leadership and a Silver Award by the Girl Scouts for her dedication to community service. The TECET Scholarship Committee was particularly impressed by her essay in which she detailed her rich internship experience at a Biogen Lemelson-MIT summer program. Gwen Weisberg, partner at Donovan Hatem, introduced Sophie Thompson.
The FY2021 TECET scholarship recipient Mariza DaCosta, Dennis-Yarmouth Regional High School graduate is now an undergraduate student at Cornell pursuing her Bachelor of Science degree in Biomedical Engineering. She hopes to use her skills to improve the lives of the people around her. As Ms. DaCosta was attending classes in Ithaca, NY, she was unable to attend the event.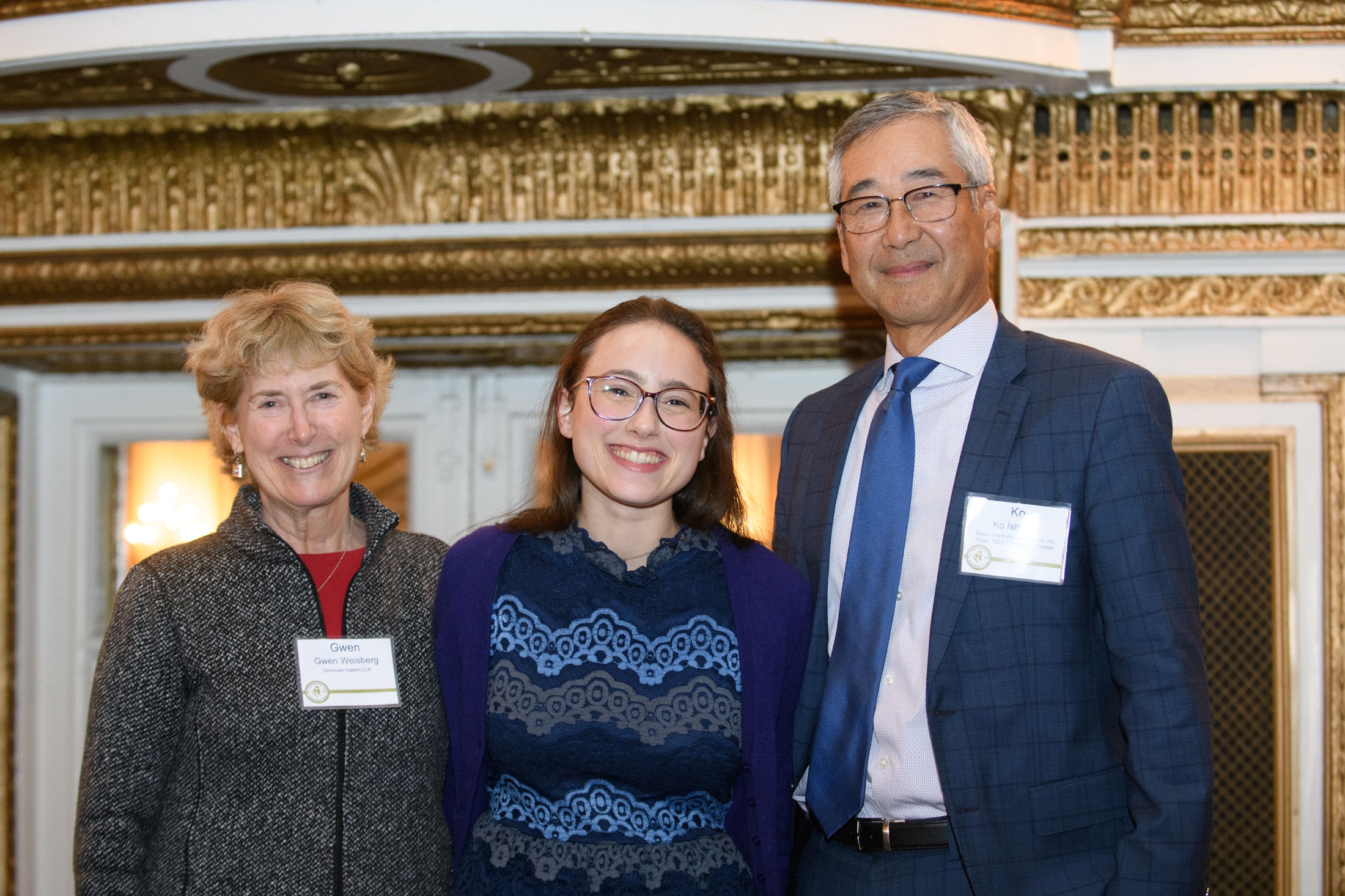 From Left: Gwen Weisberg, Sophie Thompson, MIT, FY2022 TECET Scholarship Winner, Ko Ishikura
Girls Inc. of Lynn Donation
To help support their mission which focuses on inspiring girls and young women to pursue STEM (Science – Technology – Engineering and Math) careers, TECET Chair Ko Ishikura announced that this year, for the third year in a row TECET had donated directly to Girls Inc. of Lynn (www.girlsinclynn.org).
Special Acknowledgements
Ko Ishikura used the opportunity to thank Joanne Linowes of Linowes Executive Development Institute for her donation establishing the inaugural Linowes Leadership Lecture. The 2022 lecture was well attended and featured Aron Ain, author of WorkInspired: How to Build an Organization Where Everyone Loves to Work.
Additionally, the exceptional service of two former board members, Ken Anderson, PLS of Anderson Surveyors and Paul Moyer, PE, SECB of Gill Engineering were recognized. Ken served on the board for 12 years including a long term as vice-chair of the TECET Building Committee while Paul served 11 years including five years as Chair of the TECET Board of Trustees.
Tributes
The event also included heartfelt tributes from Trustee Steve Rusteika of PMA Consultants acknowledged the passing of three past TECET leaders: David Thompson, PE, who led Haley & Aldrich, Tom Kelley, PE, PLS, a MALSCE Past-President who was the elected Water Commissioner of the Town of Yarmouth for many years, and Charlie Parthum, PE, a BSCES and ASCE Past-President retired from Camp, Dresser, and McKee (now CDM Smith). Steve also acknowledged a significant recent bequest to TECET from the estate of Frank Heger, PE, a founder of Simpson, Gumpertz and Heger.
The Rossiter Family Scholarship
Bill Rizzo, a past chair of the TECET Board of Trustees, presented The Rossiter Family Scholarship on behalf of William J. Rizzo, Jr. for women and minority students currently studying civil and environmental engineering in undergraduate or graduate programs.
Bill introduced the benefactors of the scholarship, Al and Selina Rossiter, and he spoke briefly about 2022 scholarship winner Joseph Diaz, a recent Civil Engineering graduate of Merrimack College who now works in water resources at Stantec.
This year, following a competitive review process, TECET selected Baiyu Chen of Malden, Massachusetts, as the FY2023 Rossiter Family Scholarship (a $12,000 scholarship). She is a senior studying structural engineering at Northeastern University and is currently interning at Nitsch Engineering. Baiyu and her family emigrated to the US from China in 2018 and did not know how to speak English when she first arrived. She began taking ESL courses and worked fulltime at a Dunkin Donuts store in Boston Logan Airport to help support her family. One of her coworkers encouraged her to pursue her dream of becoming an engineer so in 2019 Baiyu began taking general engineering courses at Bunker Hill Community College. After one year, Baiyu transferred to Northeastern University where she is doing a 5-year program for both her undergraduate and master's degrees. She plans to graduate in 2024.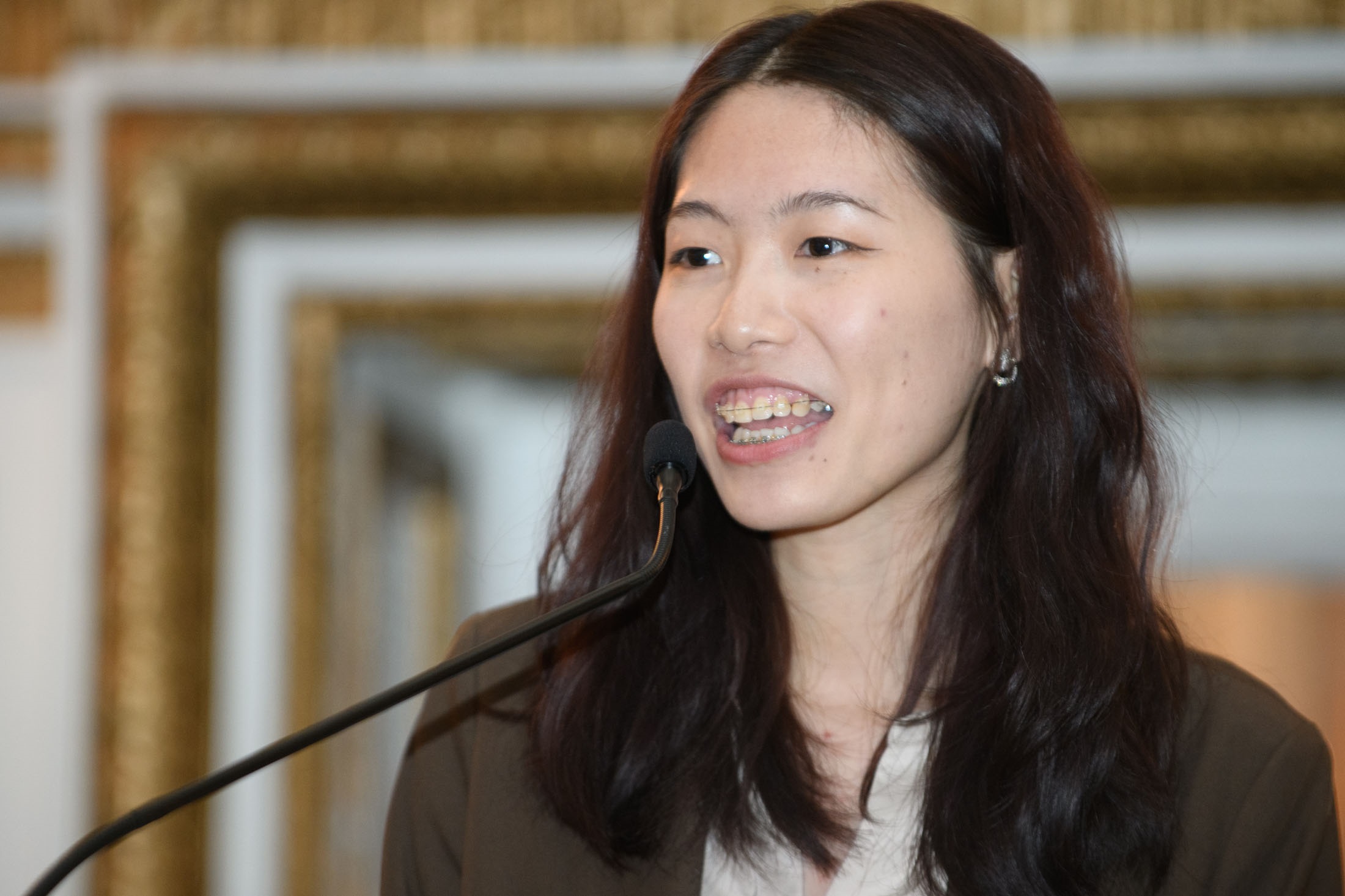 Baiyu Chen of Malden, Massachusetts, FY2023 Rossiter Family Scholarship Recipient
FY2022 Leadership Awardees
The TECET Board of Trustees recognized John Sullivan, Chief Engineer for the Boston Water and Sewer Commission for his 50 years of service to the city and the region. He spoke about the challenges he has faced in his role and stressed the importance of maintaining a strong, reliable, and redundant water and sewer infrastructure. He has also been a leader in advocating for water infrastructure over many years. Tom Tilas, Vice President of AECOM, introduced Chief Engineer Sullivan.
The TECET Board of Trustees also honored Luciana Burdi, Director of Capital Programs and Environmental Affairs at Massport with an award for, "Outstanding Leadership and Effective oversight of Massport's Ongoing Infrastructure Investments." She spoke about the challenges she has faced in her career. Arriving from Italy approximately 20 years ago, one of her first challenges was to learn and become proficient in the English Language. She next spoke about the challenges she has faced as a trained architect and as a woman in the profession. She also addressed the pressure the COVID-19 pandemic placed on her organization and how her team regrouped and thrived as the pandemic wore on. Her message to the audience was, "when we stop learning we stop evolving." An advocate for lean design and construction principles, she has continually encouraged innovation on Massport projects. She thanked both the TECET organization and her colleagues at Massport. Luciana was introduced by Michael Regan, Managing Director for Traffic Operations at VHB.
Building for the Future Campaign
TECET Board member David Bohn of VHB spoke about the history of the organization's home at One Walnut Street on Beacon Hill and the challenges we face maintaining this magnificent 218-year-old building. The Board of Trustees has created a Building for the Future campaign and has announced its intention of raising $100,000 this fiscal year to help pay for major capital improvements throughout the building. He described the many opportunities available to give through this program and he encouraged people involved in the organization to be generous in their support.

Background about: The Engineering Center Education Trust (TECET)
The Engineering Center Education Trust (TECET) is an educational and charitable nonprofit trust and owner of One Walnut Street in Boston. Since October 1989, TECET has fostered the education of engineers, surveyors, and allied professionals, emphasizing life-long learning. TECET provides a home for professional and technical meetings, public outreach, and society management.
Education within and about our community is a core part of TECET's mission. It is why we are here. TECET educates professionals, students, and the public about engineering and land surveying. TECET's mission is simple:
"Enhancing the Massachusetts engineering and land surveying community's impact."
For more information on The Engineering Center Education Trust, go to www.engineers.org or contact Elizabeth Tyminski, TECET Executive Director, or Abbie Goodman, Chief of External Affairs, at 617 227-5551.
- End -