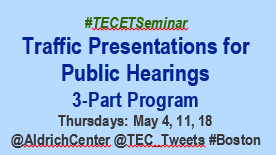 3-Part Program at Aldrich Center at The Engineering Center
One Walnut St., Boston
Each Session:
2:15 PM Registration/Networking,
2:30-4:30 PM Session
with:
Joanne G. Linowes, Founding Principal
Linowes Executive Development Institute
$500/participant for 3-part Program
Limited to 12 participants


How do you handle traffic presentations for your clients before public boards and the community?

Do you get the results you need?

How can you turn your regular presentation into one that does the job best?
Engineers, Land Surveyors, and related professionals who often speak at public hearings and meetings on behalf of their clients, need to be assured that the presentation does the job. Now you can join us for a special 3 part series on techniques for presenting traffic information at community meetings and to public boards.

This unique, specialized professional development program is ideal for participants who regularly present traffic study information before public boards and want to enhance their skills. Effective presentations can increase your success in winning the permits or approvals you need to move projects forward.

We are offering a distinctive format. Blending lively lecture with practice workshops, each session provides specific, proven techniques for creating and delivering the professional presentation when results count. In the third session, you'll present your final presentation with instruction in today's strategies for mastering Q&A and managing "vocal" audiences.
*If you are a member of ACEC/MA, BSCES or MALSCE, you can use your personal login/password that you use to register for any of these association events.*
For help with your personal login/password or with creating an account, contact tecet@engineers.org or call (617) 227-5551