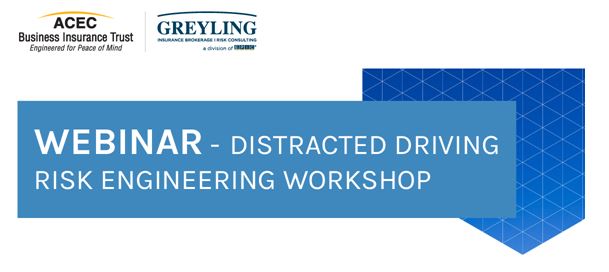 Distracted Driving Risk Engineering Webinar


​Wednesday, December 11, 2019
4:00 - 5:00 pm ET

This Webinar is open to ACEC/MA Member Firms at no cost.

Distracted driving accounts for approximately 25% of all motor vehicle crash fatalities. Talking or texting on cellphones, eating, conversing with passengers and other distractions present a major safety threat to drivers, and when driving for business purposes, a serious risk to your employees and your firm. The ACEC BIT, The Hartford, and Greyling are pleased to bring you an eye-opening webinar on the hazards of distracted driving and ways you can reduce or eliminate this danger.

In this ACEC Business Insurance Trust webinar, you will learn about:
Recognizing the Hazards of Distracted Driving
Behavior Modification
Reinforcing Driver Improvement
Eliminating Poor Driving Habits
Best Practices and Methods to Address the Problem
Speaker:
Mark T. Beaumont
Technical Manager - Transportation
Risk Engineering
The Hartford Financial Services Group, Inc.

Mark has been with The Hartford for over 28 years. In his role as Technical Manager, Mark provides technical assistance, training, resource materials, and guidance to Risk Engineering Field Consultants, Underwriting, Claims Agents and Insured Clients.
Be sure to visit the ACEC BIT website acecbit.org. You can find quick solutions to all of your business and professional liability insurance needs, risk management advice, access to other webinars hosted specifically for ACEC members and an easy to use tool to request Certificates of Insurance, 24/7.