PRESS RELEASE: The Engineering Center Education Trust Leadership Celebration
| | |
| --- | --- |
| | |
| From left: Gwen Weisberg, Ko Ishikura, and Katie Theoharides | From left: Ko Ishikura, Mike McGrath, and David Spicer |
PRESS RELEASE
For Immediate Release: December 6, 2021
Contact: Abbie Goodman, Chief of External Affairs, 617-305-4112
Web: www.engineers.org
-----
Boston, MA - The Engineering Center Education Trust (TECET), an organization serving engineers, land surveyors and related professionals from across the Commonwealth of Massachusetts honored Katie Theoharides and Mike McGrath at a Leadership Celebration held at the Fairmont Copley Place Hotel in Boston on November 18, 2021. Attendance was limited to people vaccinated for COVID-19. This event was also broadcast live on YouTube for people who were unvaccinated or who were otherwise unable to attend.
Beginning in 1998, TECET has held an annual leadership celebration event honoring individuals who, through their leadership, have made a difference in the built environment and for their contributions to society. TECET has consistently honored engineers, land surveyors, academicians, public officials and private industry leaders who exemplify how engineering and land surveying expertise improves the quality of life for everyone.
Over 150 people participated in this fall's leadership celebration hosted by TECET Board of Trustees Chair Ko Ishikura, President of Green International Affiliates.
The Board of Trustees wishes to thank the more than fifty firms and organizations that supported this year's event. The top two sponsors for the November 18 event were the law firm Donovan Hatem (www.donovanhatem.com) and the multi-discipline consulting firm VHB (www.vhb.com).
Highlights of the evening included:
TECET Scholarship
Each year, TECET offers a $5,000 merit scholarship awarded over two years to a Massachusetts high school senior planning to attend an ABET-accredited engineering, pre-engineering, or land surveying program. Even faced with the challenges of remote learning during the COVID-19 pandemic, many outstanding applications were submitted for review.
After a careful and thorough evaluation, the TECET Board of Trustees selected Mariza DaCosta, Dennis-Yarmouth Regional High School graduate, as the 2021 TECET Scholarship winner. She is now an undergraduate student at Cornell pursuing her Bachelor of Science degree in Biomedical Engineering. She hopes to use her skills to improve the lives of the people around her. As Ms. DaCosta was attending classes in Ithaca, NY, she was not present at the event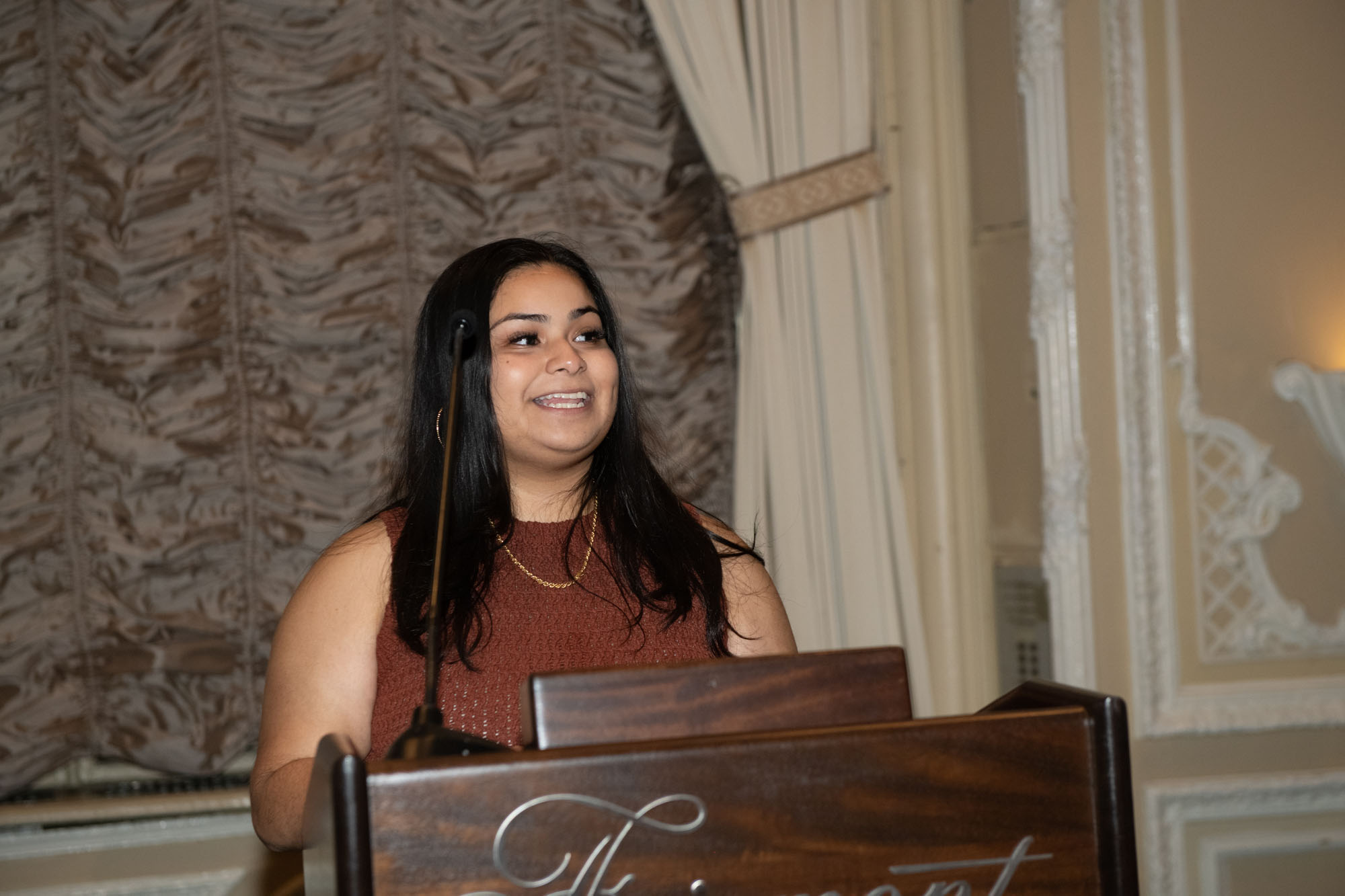 Melanie Sola, Northeastern University, 2020 TECET Scholarship Winner
The 2020 TECET scholarship recipient Melanie Sola, a graduate of Boston's Madison Park High School and a second-year student studying Management Information Systems for Engineering Project Management at Northeastern University, attended the event. She spoke about her passion for STEM and the extra challenges college students have faced because of the pandemic.
Girls Inc. of Lynn Donation
To help support their mission which focuses on inspiring girls and young women to pursue STEM (Science – Technology – Engineering and Math) careers, TECET Chair Ko Ishikura announced that this year, for the second year in a row TECET had donated directly to Girls Inc. of Lynn (www.girlsinclynn.org).
The Rossiter Family Scholarship
Bill Rizzo, a past chair of the TECET Board of Trustees, presented The Rossiter Family Scholarship on behalf of William J. Rizzo, Jr. for women and minority students currently studying civil and environmental engineering in undergraduate or graduate programs.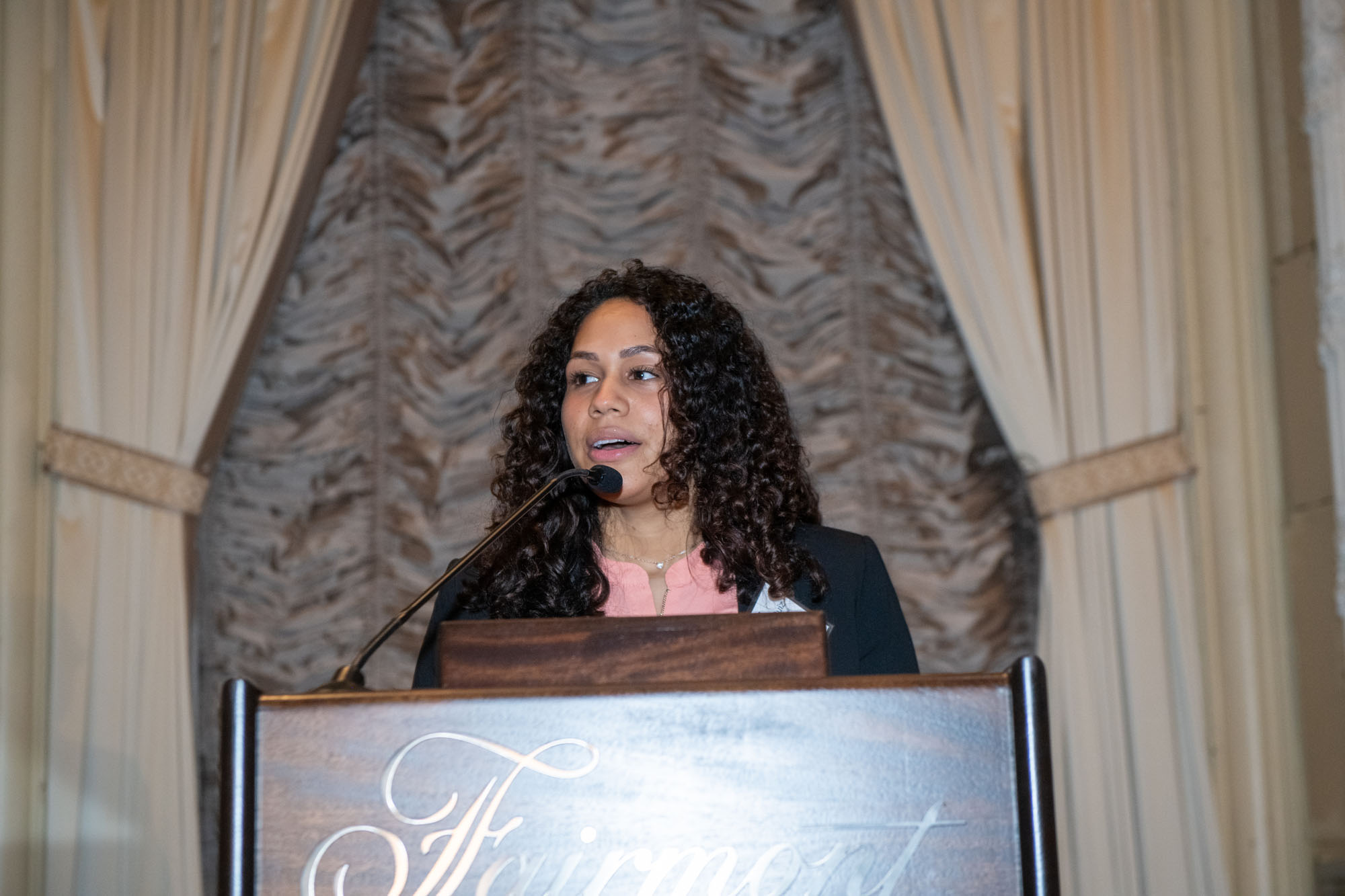 Yaneliz Garcia Ruiz, UMass Lowell
Bill introduced the benefactors of the scholarship, Al and Selina Rossiter, and he spoke briefly about Yaneliz Garcia Ruiz, the FY2021 scholarship winner. Yaneliz is studying Civil Engineering with a structural engineering focus at UMass/Lowell. Originally from Puerto Rico, she intends to earn her professional engineer license and become a successful engineer who gives back to her community.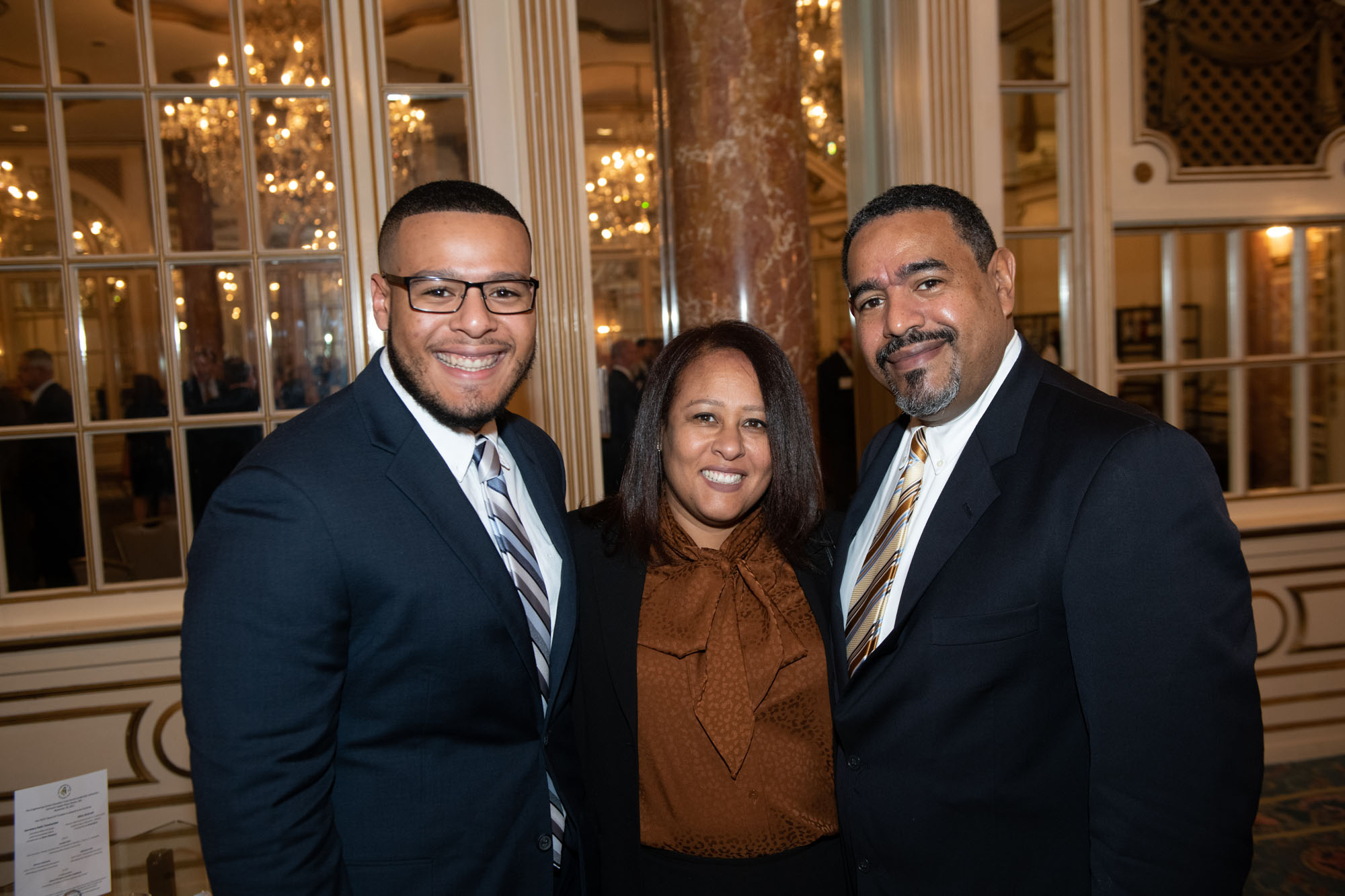 Joseph Diaz (left) with his parents
This year, following a competitive review process, TECET selected Joseph Diaz of Salem, Massachusetts, as the FY2022 Rossiter Family Scholarship(a $10,000 scholarship). He is a senior studying Civil Engineering at Merrimack College. Joseph and his brother will be the first people in his immediate family to graduate from college. Joseph intends to pursue his Master of Science degree. He expressed his gratitude to TECET and spoke about his goal to create a positive impact. Joseph was joined at the event by his mother, Vielka Diaz, and his father, Jose Luis Diaz.
FY2022 Leadership Awardees.
The TECET Board of Trustees recognized Katie Theoharides for her leadership in Climate Change and Adaptation. In her position, she is guiding the Commonwealth of Massachusetts to a better and cleaner future. She shared that she is a big fan of the TECET organization and its mission. She spoke about the challenges ahead, including retrofitting over one million homes to reduce their energy consumption by 2030 and the coming electrification of the private automobile fleet in the same time frame. The Secretary spoke about reducing carbon emissions, increasing resiliency, and our clean energy future. Finally, she talked about being more inclusive across the industry with an emphasis on women and minorities. Gwen Weisberg, partner at Donovan Hatem, introduced Secretary Theoharides.
The TECET Board of Trustees also honored Michael McGrath for his contributions. A long-time MassDOT employee, for the last 16 years, he has served as the agency's Deputy Administrator and Chief of Construction Engineering. Mike oversaw multiple major construction projects during his career, including the Longfellow Bridge, the Burns Bridge, and the Fore River Bridge. He thanked the TECET organization and then spoke at length about the team's many accomplishments at MassDOT during his tenure. He cited the numerous process changes (including the implementation of online bidding, full electronic specifications online, and electronic documents to streamline project awards and administration) made there during his career. The MassDOT construction program grew to a $1.1 annual billion program. Mike was introduced by his successor at MassDOT, David Spicer.
Tributes
The event also included heartfelt tributes to the late Don Goldberg, founder of the prominent geotechnical engineering firm GZA and to the late Dominic D'Eramo, an engineering leader who served at Sverdrup and Tetra Tech Rizzo. Both Mr. Goldberg and Mr. D'Eramo were founding members of TECET.
- - - - -
Background about: The Engineering Center Education Trust (TECET)
The Engineering Center Education Trust (TECET) is an educational and charitable nonprofit trust and owner of One Walnut Street in Boston. Since October 1989, TECET has fostered the education of engineers, surveyors, and allied professionals, emphasizing life-long learning. TECET provides a home for professional and technical meetings, public outreach, and society management.
Education within and about our community is a core part of TECET's mission. It is why we are here. TECET educates professionals, students, and the public about engineering and land surveying. TECET's mission is simple:
"Enhancing the Massachusetts engineering and land surveying community's impact."
For more information on The Engineering Center Education Trust, go to www.engineers.org or contact Elizabeth Tyminski, TECET Executive Director, or Abbie Goodman, Chief of External Affairs, at 617 227-5551.
-End-