East Somerville Walking Tour and Dinner
Registration is now closed. If you are subsiting for another attendee Contact
An ACEC/MA Dinner Program
Wednesday, September 20, 2023 - Register by September 14 to save your spot.
Registration at Keolis Operations Center, 32 Cobble Hill Rd Somerville.- see map below
*If your firm is an ACEC/MA Member, You're an ACEC/MA Member. Contact us for your individual login/password to register yourself online. Please do not share your login credentials or attempt to register using another individual's credentials.
3:45 PM Registration | 4 PM – 5:40 PM Tour of Keolis Ops, GLX East Somerville Station, Somerville Community Path with MBTA, MassDOT, Keolis, STV, and Arup staff
5:45 PM Reception, Remarks, Buffet Dinner @ Oliveira's Steak House
Fee: $100 ACEC/MA member | $200 Non-member | $65 Public Sector
Wear your comfortable walking shoes and your photo ID and then meet us in East Somerville for a walking tour of the Keolis and MBTA Commuter Rail Operations Center, the new MBTA East Somerville Green Line Extension Station, and the Somerville Community Path.
Then we'll have a reception and buffet dinner at Oliveira's Steak House, a Brazilian Steakhouse buffet.
Take the MBTA to East Somerville, walk or bike, or if you really need to drive, there is some on street parking & a small lot at Oliveira's Steak House.
With Speakers from MBTA, Keolis, MassDOT, STV, and Arup including:
Terry McCarthy, MBTA, Andy Bradshaw, STV
Pete Sutton, MassDOT, Derek Anderson, Arup
Keolis and MBTA Team to be announced.
Map of area: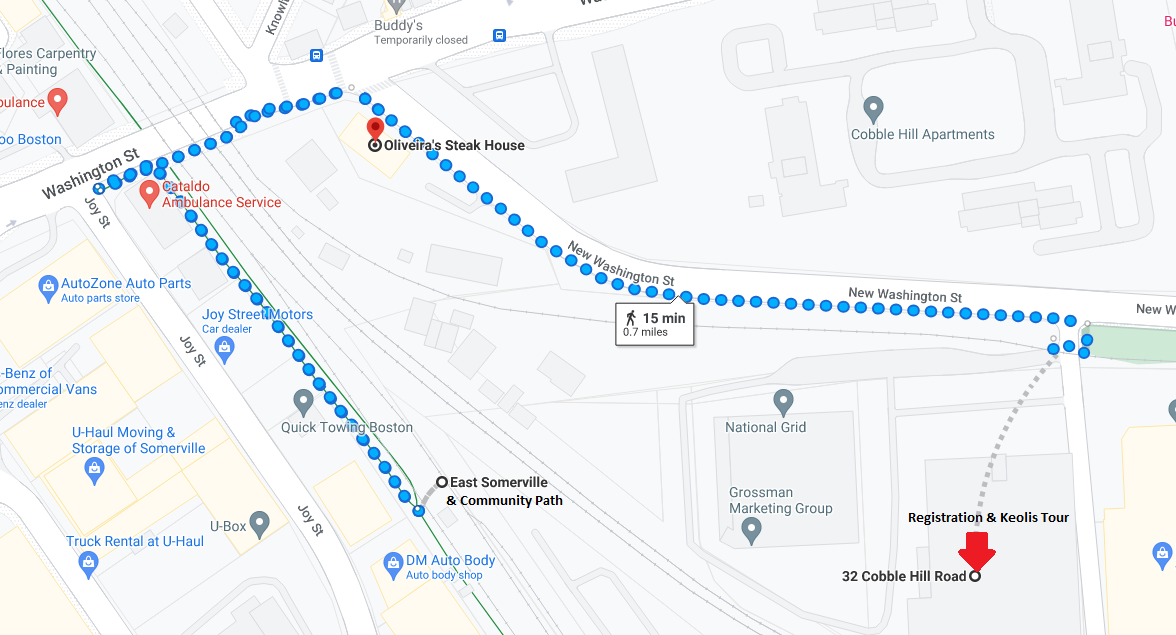 Thank you to our 2023 ACEC/MA Corporate Sponsors
PLATINUM
AECOM
Donovan Hatem LLP
Gannett Fleming, Inc.
HDR
Jacobs
Michael Baker International
Stantec
VHB
WSP USA, Inc.
GOLD
AI Engineers, Inc.
Architectural Engineers, Inc., now IMEG
Arora Engineers, Inc.
ATANE Engineers, P.C.
Beals and Thomas, Inc.
BETA Group, Inc.
BSC Group
CHA Consulting, Inc.
Collins Engineers, Inc.
GOLD (cont.)
Dewberry Engineers
GEI Consultants, Inc.
Green International Affiliates, Inc.
H&H (Hardesty & Hanover)
HNTB Corporation
Nitsch Engineering
TEC, Inc.
Tetra Tech, Inc.
Tighe & Bond
TranSystems
SILVER
CDR Maguire, Inc.
City Point Partners LLC
Dawood
Environmental Partners Group, LLC
GPI
GZA
Haley Ward, Inc.
Horsley Witten Group, Inc.
Howard Stein Hudson
Hoyle Tanner
SILVER (cont.)
McFarland Johnson
McMahon, a Bowman Company
Sanborn Head & Associates
SLR Consulting
Stacey DePasquale Engineering
STV
The LiRo Group
Triunity, Inc.